Coastline dining in the Mediterranean is all about Yacht Lifestyle and enjoying the shore-sea connection.
Whether you have hotel or villa accommodations or have opted to charter a luxury crewed yacht to tour the islands and coastline, each traveler in Greece and the Mediterranean want to experience a dining spot on the sea with that horizon, sea or sunset view. Dining on fresh fish with the sea air or an impeccable view to a bustling marina or a charming fishing port – this is what island life is about, right?
We are helping you discover some treasures that might not be on your radar with a definite list of some of the BEST dining locales on the coast.  From tavernas with local produce and fresh fish to gourmet and romantic establishments, we know you will love these offerings and every Mediterranean taste.
Mani is a region of the Peloponnese most famous for its revolutionary spirit, relentless craggy mountains, and castle-like stone homes. But its postcard-like coastal towns, such as Limeni, will blow you away.
Our favorite fish taverna in Mani is located in Limeni village, in an inlet, and serves the freshest fish and produce around and that is saying a lot! Here, you dine by the sea with the gentle afternoon tide lapping up the water to your feet.  The produce cannot get much fresher – the taste of the boiled vegetables, which is the perfect and simple accompaniment to a fresh grilled fresh, will create a lasting memory for your tastebuds.  The delicate, tender and petite zucchinis and the wild greens or Horta are a delicacy on their own.  Along a narrow road that sweeps down past the 3 to 4 restaurants and cafes here, you will find cars vying for a precious parking spot alongside wild cactus and flowers, all there for the most exquisite view and food.  They have come from far and wide to this privileged place amidst the dramatic scenery.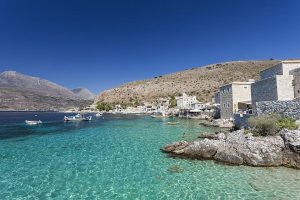 Like most traditional Greek seafood tavernas, you go in and choose for yourself the fish that appeals to you.  The fresh catch is displayed on ice and even arrives on the spot from the sea via their little wooden fishing boat.
Enjoy the azure water of the bay and simple, elegant and casual dining in a coveted place exuding the essence of the Mediterranean lifestyle.
An iconic view deserves a gourmet fine dining experience in an environment harmonious with the natural scenery.  In Santorini, we suggest this top-notch restaurant.
Throubi prides itself on design and taste in all aspects.  Located in the stylish luxury hotel, Andronis Suites, Throubi is a restaurant of note for dining with an unforgettable view on the coast and flavors to match. Throubi is a Greek savory herb with ancient healing properties and used in marinades and to flavor vegetables and fish and cheeses. The senses are fully activated when dining here. In case a special evening is desired, indulge in the private dining experience, with your own sunset view, five-star service and degustation menu by the executive chef. Let the scenery be a living canvas for nature's color display at sunset and the cuisine be a feast for the eyes and belly.
In the beautiful cave of Agia Anna, next to Kalafatis beach, you'll find a restaurant-bar like no other. Peacefully nestled on a natural platform on the rocks, perched over the sea, Spilia (cave) Seaside restaurant is one of the most iconic Mykonos hotspots.
When someone tells you that to access this restaurant you must arrive first to a gorgeous beach (Agia Anna) and then cross a wooden footbridge snaking around a cave, you might think they are alluding to a fantasy place on Treasure Island.  This, however, is a real place, accessed indeed by a footbridge, aptly named for its most prominent feature, the cave it resides in.  If it were not for the calm Aegean Sea lapping up to its shore, this restaurant might be submerged. The accessibility to the sea and being sheltered by nature adds a dynamic island-feel and hint of mystery and romance to this modern taverna serving clams, lobster spaghetti, Greek meze, cocktails and more.
Spilia is also accessible by yacht tender, simply pull right up and disembark on the jetty like rocks.  So yacht lovers, at your service!
Valef Yachts not only caters to those seeking to get away by sea in a luxury crewed yacht but to those who want more from their vacation through custom itinerary suggestions.  Through our concierge department, we offer hotel and villa bookings, tours, excursions, special events, restaurant bookings and activity suggestions for each and every destination.  Give us some hints about what you like and leave the rest to us.