Any traveler in Greece will indulge in the timeless Greek salad or "horiatiki" at some point; it's so easy to prepare and heavenly to enjoy.
Those ripe red tomatoes, glistening with flavor, the sharply aromatic dried oregano, the fresh feta cheese, the salty Kalamata olives, the sweet onions, the cool cucumbers, and crisp green bell pepper rings, all well-doused in red wine vinegar and extra virgin olive oil, are divine. With such perfect local ingredients, you can't go wrong.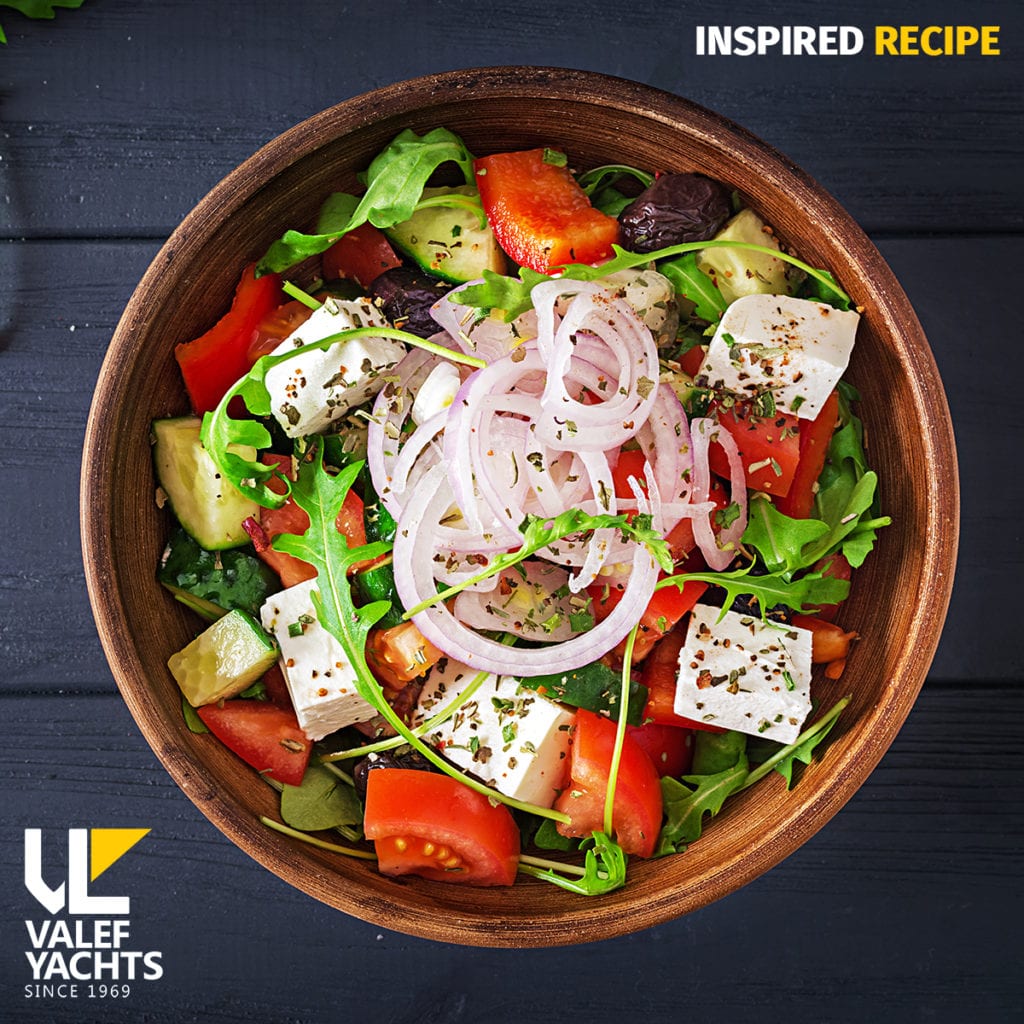 Even on the most lavish yacht charters in the Aegean, a Greek salad or version of will be served!
Each chef will be sure to make their own signature version of the classic salad which might include variations in style and presentation alone or adjustments like a feta mousse or feta snow-flakes rather than the typical block of cheese atop the vegetables which is common at tavernas.  Alemagou beach restaurant in Mykonos, for example, has a signature feta snow-flaked Greek salad. These twists bring new delight to the taverna-classic.  The fine-dining restaurant, Selene in Santorini, has an artistic and abstract Greek salad with the ingredients running in a mote around the dish and the dressing in a bowl for dipping on the plate.
Let's take it back to basics, however, for just one moment before we present you with a unique recipe to enjoy in your homes. A Greek salad does NOT have lettuce! A Greek salad is best in Greece, enjoyed in the Summer when the primary ingredients are the freshest and most flavorful. A Greek salad will perk up any mood as you fork into bites loaded with various flavors that excite the taste buds.  A Greek salad tastes best, somehow, by the sea where the natural flavors are enhanced by the salty sea air and gentle (or full-on!) Summer heat. A Greek salad is enjoyed until the last drop,  with fresh bread dunking into the oil and vinegar mixture, which by the salad's end has become infused with bits of oregano, feta crumbles and remaining bits of the other ingredients.
Enjoy this All-Season SAUCE recipe for pasta or bread, inspired by the 'essence of the Greek salad', from the chef of Papadakis restaurant, a favorite Athenian dining spot for Valef guests.
SERVES: 1 JAR 16 FL. OZ
COOKS IN:
10′ PREPARATION
• ½ cup Kalamata olives, pitted and sliced
• ½ cup green olives, pitted and sliced
• ½ cup dry-salted black olives, pitted and sliced
• 1 cup semi sun-dried tomatoes in their oil (cut into pieces)
• 1 cup hard barrel-aged feta, cubed
• 1 cup manouri cheese (or any fresh white goat cheese), cubed
• 1 cup extra virgin olive oil
• 1 tsp. oregano
• Salt, freshly ground pepper
Method
Strain the semi sun-dried tomatoes from their oil and cut into 3-4 slices. Put in a bowl.
Add the olives, feta, manouri (optional), oregano and olive oil.
Mix all ingredients together and carefully transfer to an airtight glass jar.
If necessary, add a splash of olive oil to cover ingredients.
Store the sauce in the refrigerator for up to 2 weeks.
To serve, stir lightly because the oil will have frozen on the surface.
Spread this sauce over some oven-baked bread slices, as stuffing in pies, as pizza filling, as a salad dressing, or over some warm or cold pasta for a marvelous meal!
Eat as in the Mediterranean and feel happy!  KALI OREXI, Bon Appétit!