Superyachts which are attributed to high lifestyle and money are often used by movie directors as part of their set when displaying a life of opulence. Whether used as the ultimate getaway vehicle, for romantic interludes in a scene, or for lavish, over-the-top parties, whenever featured they bring excitement to a movie.
Most, if not all filmed yachts are privately owned and on the charter market, available for rent through a charter broker. Even as an integral part of the movie, the yachts rarely get credited so let's explore them.
M3 in The Wolf Of Wall Street (2013)
The 2013 film "The Wolf of Wall Street" predominantly features the yacht M3 (ex: Lady M). M3 is a luxury 147-foot motor yacht, built for Coco Chanel, that accommodates ten passengers in five staterooms, including an Owner's suite, 1 VIP suite, two doubles, and a twin. The yacht was named 'Naomi' in the film after the second wife of the key character – Jordan Belfort a stockbroker, played by Leonardo DiCaprio.  The plot features a massive party aboard with a famous scene of "raining fun coupons."  Making it rain fun money!   Later in the film the yacht supposedly sinks between Porto Cervo and Capri in a disastrous storm.  In 1997 a real-life similar yachting disaster happened to Jordan Belfort.
SARASTAR in Murder Mystery (2019)
In a mystery-comedy movie called "Murder Mystery" starring Jennifer Aniston and Adam Sandler, the yacht Sarastar was used as the crime scene of a murder and where the investigation takes place.  It was the private yacht of the billionaire. Soon the couple, Aniston and Sandler, become suspects in an Agatha Christie- esque murder mystery. Sarastar is 197 feet in length and was built in 2017 in Italy.  She accommodates twelve guests in six staterooms including an Owner's suite and five double staterooms. Her foredeck is multi-purpose as it can be used as a Helipad, dance floor or for sunbathing. Below the foredeck is the garage that houses all her sea toys and tenders.
WHITE KNIGHT in The Bourne Identity (2002)
"The Bourne Identity", the first of three films starring Matt Damon as Jason Bourne, hired the White Knight to be seen in the flashback scenes of Bourne – interior shots, before he jumps off the yacht after being shot and floats away. She is an older superyacht, built in 1985, that has been kept in tip top shape and was for charter in Greece until she was pulled off the market and made private.
KISMET in Six Underground (2019)
The yacht Kismet was used in the filming of the movie "Six Underground" in 2019.  The movie produced by Netflix, was filmed in Italy in 2019 and features the yacht Kismet in many scenes.  A group of eighty or so guests were filmed aboard having a large party scene and a few other action scenes with explosions near the yacht filmed.  The plot involves international operatives who are trying to take down a notorious dictator and the yacht is used as the setting in the final scene where Kismet, the stronghold of the dictator, gets blown up. Kismet, owned by Shadd Kan a Pakistani-American billionaire, was built in 2014. She is 312 feet in length, has five decks and can comfortably accommodate 270 guests for a party. One of her interesting features are video walls that reach two decks high.
PARSIFAL III in Below Deck Sailing Yacht (2020)
Captain Glenn Shephard and his crew set sail in a luxury sailing yacht to explore the crystal-clear blue waters of the Ionian Sea in the new spinoff of the TV show "Below Deck" (2013).  They have chosen the sailing yacht Parsifal III a 177-foot super sailing yacht as their vessel.   She is filmed in the new trailer cruising the Greek waters around Corfu. Up to twelve passengers can be housed in her six staterooms.
WALLPOWER 118 in Island (2005)
The sleek yacht Wallpower 118 is unique in design and certainly will catch your eye.  She appeared in the film "Island" as Scarlett Johansson and Ewan McGregor, the main characters, are set free and sail away in the sunset on this futuristically styled speed boat.  She can hit amazing speeds of 65 knots making her one of the fastest vessels in the world of her size.  She has three staterooms aboard for 6 guests. This film put Wally builds on the map for the non-yacht lover.
THUMPER in Absolutely Fabulous: The Movie (2016)
The 131-foot Sunseeker called Thumper was featured in the film "Absolutely Fabulous: The Movie". The scene shows two of the stars sipping champagne as they cruise the coast of Cannes. The stars Jennifer Saunders and Joanna Lumley only spent about six hours aboard filming the scene. She has four staterooms and accommodates up to ten passengers.  Built in 2014, awarded the world superyacht award in 2015 has five cabins to accommodate ten.
USHER in Entourage (2015)
Usher, a US-built 154-foot motor yacht was used in the opening scene of the movie "Entourage" in 2015 as a huge party is hosted aboard. It is used to symbolize the decadent lifestyle of the main character Vincent Chase. She has five staterooms and accommodates up to twelve guests.  Her deck has a lovely Jacuzzi for relaxing day or night.
HELIOS 2 in Syriana (2005)
George Clooney and Matt Damon star in the movie "Syriana".  Helios 2 was used to help depict the abundant lifestyle of a Middle East Prince. Helios 2 was perfect in depicting the wealthy, flamboyant lifestyle of the Princes. Built in 2002 and refurbished in 2006 she can accommodate up to twelve guests in an Owner's suite, two doubles and two twin staterooms.
HAIDA 1929 in Mamma Mia! (2008)
"Mamma Mia" featured the Haida 1929, which is one of the oldest mega yachts in the water of today. She is 233 feet in length and offers the experience of cruising back in the 1930's.  She was highlighted in the film on the scenes of the ABBA song Money, Money, Money with Meryl Streep.
PLANET NINE in Tenet (2020)
The sci-fi thriller movie "Tenet" spared no expense in securing the superyacht Planet Nine, 240 feet, to double as the lair of Tenet's evil Andrei Sator. She was built in the Italian shipyard Admiral Yachts in 2018. She was filmed off the Amalfi Coast although her script location was Vietnam. The color of the yacht suited in helping make it feel sinister and almost military. They even placed a rocket launcher on the aft of the yacht.  It is equipped with a helipad which was portrayed in the movie as well as Andrei was off and on in his heli frequently.
TAIPAIN III in Rush Hour 2 (2001)
The Italian-built yacht in 1981, the Taipan III was used in filming "Rush Hour 2". She has four decks and is outfitted with all the pleasure toys as newer models of yachts do, from jet skis, kayaks, and windsurfers and has a Jacuzzi as well. She is custom furnished with antiques offering old-world charm.
ATESSA in Overboard (1987)
The 130-foot superyacht Atessa (renamed Huntress) was named S.S. Immaculata in the 1987 comedy movie Overboard. Starring Goldie Hawn and Kurt Russel, it was about the haves and have-nots and ultimately was a romance. Atessa was a part of the "have" life enjoyed before Goldie gets amnesia and gets thrown into a life of "have-not".  Atessa was also featured in the 1993's movie Indecent Proposal starring Demi Moore and Woody Harrelson. The owner of the Atessa actually lent the yacht to both film productions. She has three cabins aboard and a Jacuzzi.
R. RENDEZVOUS in Donnie Brasco (1992)
The movie "Donnie Brasco" features a yacht named Left Hand in the movie but in reality, it is the R. Rendezvous.  Built in 1992 she is 111 feet in length and played an integral part in the movie.
SOLANDGE in Successeion (2018)
The TV series "Succession" uses the German-built 280 feet long superyacht called Solandge.  A main feature is its panoramic upper deck that consists of a beach club, dance floor, full DJ station and bar.  This HBO series filmed its finale aboard of season 2. She accommodates guest up to 12 in an owner's deck and suite, and eight stunning staterooms.
No list is complete without mentioning 007 aka: James Bond and the yachts used in his movies. It is well known the Bond movies showcase high-end luxury yachts and vehicles attributed to a fast-paced lifestyle.
FAIREY HUNTRESS in From Russia With Love (1963)
Some of the yachts were small but powerful and had an impact in the films. Sean Connery played Bond in "From Russia with Love" where there is an iconic yacht chase as he and the Bond girl Tatiana Romanova travel to Venice.  It is a small boat, Fairey Huntress, but they make a spectacular escape.
GLASTRON GT150 in Live and Let Die (1973)
In 1973 another small boat chase made headline in the movie "Live and Let Die".  Here Roger Moore as James Bond careens through the everglades aboard Glastron GT150 and makes a 120 foot leap over the sheriff's car.
KINGDOM 5KR in Never Say Never Again (1983)
"Never Say Never Again" used the yacht Kingdom 5KR as the floating base, named Flying Saucer,  of the evil Mr. Blofeld. A superyacht indeed at 282 feet in length, it was built in 1980 and at the time was the 8th largest superyacht. Maybe more commonly known as once owned by ex US President Trump, it is now owned by Prince Al-Waleed. This yacht has everything on her five decks from a disco, cinema, a helipad, pool with a water jet, 11 ultra-luxurious suites and houses a crew of 48.
NORTHERN CROSS in Goldeneye (1995)
Pierce Brosnan plays James Bond in 1995's "Goldeneye".  The yacht Northern Cross was used to portray the residence of the assassin Xenia and Bond is out to save the world from a terror plot. This lair of the villain was named Manticore in the movie. They filmed most of her scenes off Monaco. The yacht is 141 feet and accommodates her guests of up to 12 in 6 luxurious suites.
M3 in Casino Royale (2006)
"Casino Royale" featured the M3, a luxury Sunseeker Predator 108 foot built in 2003 as the Villain's floating lair and filming on location in the Bahamas. .  Her four staterooms accommodate up to eight in an Owner's suite, VIP and two twins.
Spirit 54 starred in "Casino Royale" with Daniel Craig and Eva Green in 2006, presenting herself with dignity as a classically elegant unique sailing yacht. The sailing yacht Spirit was featured heavily in this Bond movie and was the first yacht to sail up Venice's Grand Canal in over 300 years. She was custom built for the movie by British contemporary yacht builders. During the yachts filming in Venice, the rigging had to be taken down ten times to fit under the various bridges. She has two staterooms aboard.
Sunseeker Sovereign 17 in Quantum of Solace (2008)
Shortly after, in 2008, James used a small yacht, an original (vintage) Sunseeker Sovereign 17 in the Bond movie "Quantum of Solace.  The scene takes Bond to Mathis's villa in Italy. a Sunseeker Superhawk 43 is also featured in a chase scene in Panama.
ARIA I (ex: Regina) in Skyfall (2012)
James Bond takes to the water aboard a yacht once again for "Skyfall".  This time he is in a neo-classical steel-hulled schooner of 183-Feet, Turkish built, now named Aria I. In the movie, James sails the yacht referred to as 'Chimera' to Hasshia Island, the villain's island, in the East China Sea. There are five staterooms aboard; two Owner's suites, two double staterooms, and two twin cabins for a total of twelve guests.  Today she sails on charter in the Greek isles and flies the Greek flag.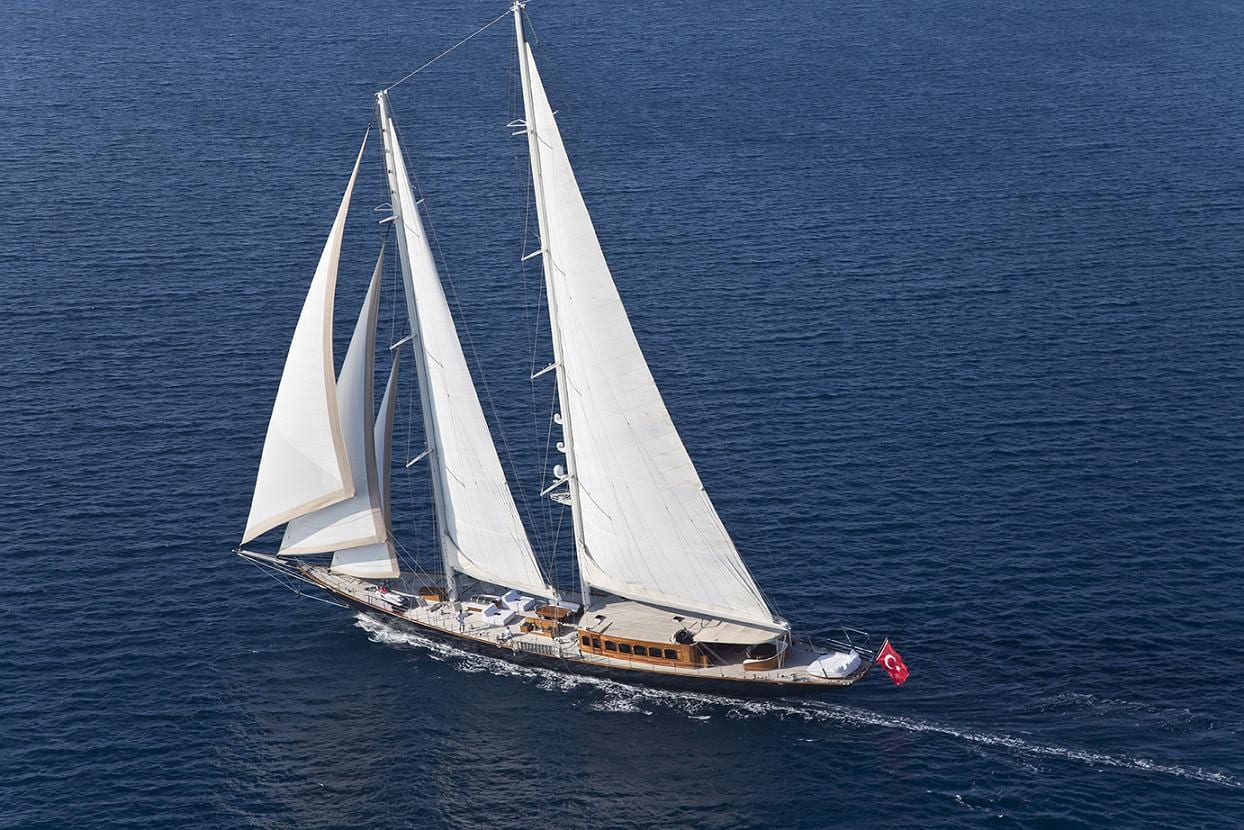 SPIRIT 46 in No Time To Die (2021)
Here is a sneak peak of the new James Bond movie, "No Time To Die", using Spirit 46. The soon to be released film will feature the classic wooden-hulled sailing yacht Spirit 46. We will see James behind the helm sailing off the coast of Jamaica, in style.
Superyachts have played star roles in many a movie and TV show.  They range from the villain's vessel to the play toy of millionaires. They have been depicted and seen as the ultimate in luxury and style symbolizing wealth and status.
So for those of you who have watched superyachts in films and wished you knew more, here was a small glimpse into some of them. Oh, the lifestyle of being aboard a yacht!
Well, we all can't all own them, but we can charter them.  These Movie producers certainly did as all are for hire around the globe.  "Rent The Yacht, Own The Feeling" as Valef Yachts says.
Cheers to the always aspirational yacht life.