The world's most expensive super mega yachts currently on the charter market come with a hefty charter rental fee but offer some of the top of the line and over the top amenities.
Their price tag will include state-of-the-art amenities such as swimming pools, helipads, incredible wellness centers, an array of sea toys and all with five-star service by their crew.  Offering an outrageous style of living, they have catered to some of the most influential and famous people worldwide.  From Presidents, world leaders to pop and rock stars the charter clientele of these yachts are the movers and shakers of the world all willing to pay incredible sums of money to charter a super mega yacht.  Charter these luxury floating palaces all over the world from the Maldives, Thailand, Seychelles, Caribbean, Mediterranean and beyond.
We start with the FLYING FOX, built by the German shipyard Lurssen, at a mere 446 feet in length which claims to be the largest of all charter yachts.  She accommodates up to 25 passengers in 11 spacious double suites.  You can find aboard her five decks two helipads, a 12-meter-long swimming pool and an indoor Jacuzzi. There is a spectacular two-story 400 sq mt spa that includes a steam room, Cryo-sauna, hammam and spa room. One can also work out in her fully equipped gym and take a dip in the 12 meter swimming pool.  Further entertainment needs can be met by curling up in front of a fireplace, catching a movie in her cinema with D-box seating that mimics the action on screen or visiting the beauty salon to be fully pampered. She has a lovely beach club and boasts an extraordinary collection of sea toys and six tenders.  The Flying Fox is easily accessed using her helipads and once aboard there is an indoor elevator to traverse her multi levels.  She certainly offers an action-packed vacation serviced by a professional crew of 55.  Her weekly charter rate is Euro 3,000,000/week and a security deposit is required of 200,000 Euros.
OCTOPUS comes in just a bit smaller than FLYING FOX at 414 feet in length. Even with all her size and a crew of 42, she only accommodates up to 12 passengers in 13 suites.  Onboard parties and events can host up to 350 guests, however. All the usual suspects of amenities are found aboard from a well-appointed wellness center, gym, heated fresh water pool, numerous Jacuzzis, fully equipped dive center to a helipad, dance floor, movie theater and even a glass-bottomed underwater observation lounge.. There is a huge array of sea toys including 4 wave runners, a jet ski, towable toys, kite surfer, kayaks, six tenders and more.  She has storage for up to eight tenders and a ROV Triton submarine, For the adventurous charterer they have an internal dock that allows a 20 m submarine to float to storage.  Come aboard with only Euro 2,200,000 a week in charter fees.
QUEEN MIRI (Ex Delma) at 302 feet in length is known for her exception in size and specifically for her spa facilities. There is a professional salon, a full massage suite, steam room, sauna, heated swimming pool and Jacuzzi. The gym features the latest in professional equipment for the more active guests. Children will be well entertained in a playroom or by visiting the onboard theater and the adults have a full conference room if one needs to attend to work. Her plethora of sea toys range from Flyboards, jet skis, scuba diving equipment, scooters, three tenders to water slides.  Her 18 suites house up to 36 guests in total luxury with 36 crew members at attention, Charters are Euro 1,500,000/week.
LANA features a uniquely sized Owner's suite of 110m large as apart of her 351 feet in length. She is the third largest yacht built by the Italian designer Benetti.   One can be fully entertained in her pool, at the spa and gym or relaxing at the beach club or listening to the piano. Her eight staterooms can house up to 12 guests and 33 crew members are aboard for the utmost service. Relax at the spa or hammam, take a dip in her pool, visit the beach club with fold-out sea terraces and experience all her charter focused array of sea toys or take in a movie at her theater. There is something for all to enjoy.  She charters at Euro 1,800,000 a week.
DREAM at 349 feet in length was once a cruise ship that has meticulously been converted to a luxury mega yacht accommodating up to 36 guests in 22 staterooms. She charters at Euro 2,000,000 a week. She has a multitude of wellness facilities full beauty salon that offers an array of treatment, spa, movie theater, and gym. Head to the sundeck to the large swimming pool for a dip jump in your chopper at the helipad to dash to the nearby island or to the beach club to enjoy all the fun water toys.  Highlighting her sea toy trove are two laser sailboats and three wave runners, helping to make for an amazing vacation aboard.
KISMET is 312 feet long and was built in 2014.  Luxury is boundless aboard this mega yacht from numerous pools, one on the upper foredeck with Jacuzzi offers magnificent views of the sea ahead. Of course, the full-service spa has all the bells and whistles expected on a yacht of this size.  Kismet is one of the few yachts that offer a basketball court aboard which even doubles as a helipad.  The aft deck has not only a fire pit but also a waterfall to set the ambience.  With only seven staterooms aboard, one can imagine their size.  Five-star service is afforded by her crew of 28 that service the 12 guests aboard. Her sea toys garage is full of fun and expensive water toys and the area also provides room for yoga and aerobics waterside. She is one of the most sophisticated super yachts for charter.  You can charter this yacht at Euro 1,200,000 a week.
MADSUMMER clocks in at 312 Feet in length.  She is outfitted with all the comfortable amenities to make the charter feel right at home and pampered to the utmost. She has all the normal wellness items such as a full spa, gym, and even a dance floor to keep the days full of activities. Her 12-meter pool allows for a cool dip while cruising and midnight swim under the moon.  The deck jacuzzi offers a great place to sit back a sip a glass of champagne. Her beach club is well equipped with all the sea toys for entertainment and even a flyboard to soar above the sea and a full room dedicated to diving. She has 10 spacious staterooms accommodating up to 12 guests. One of the most notable details is her magnificent lacquered custom built dining table. She is Helicopter ready (with a below deck storage to keep the helicopter) to welcome her guests any way.  Her charter rate is Euro 1,600,000 a week.
LADY S, a 305 Foot motor yacht built by the famed shipyard Feadship, was delivered in 2019 making her one of the newer charter mega yachts. She has accommodation for 12 guests in seven cabins. She has all the desired amnesties aboard to even housing a basketball court.  LADY S boasts the first IMAX cinema to be installed on a motor yacht.  Getting a bit warm under the sun then plunge into her ice-plunge pool to cool off or jump in her deck jacuzzi.  The family will all join in the fun with her waterslides.  Her large beach club opens on many sides making for a seamless transition to the sea. The adrenaline adventure seeker can try the Zapata Racing Pro Series Flyboard.   Work out in her gym and relax in the steam room afterwards. Arrive in style via her helipad and be escorted to the mainland in her limo tender.  Her weekly charter rate is Euro 1,635,000.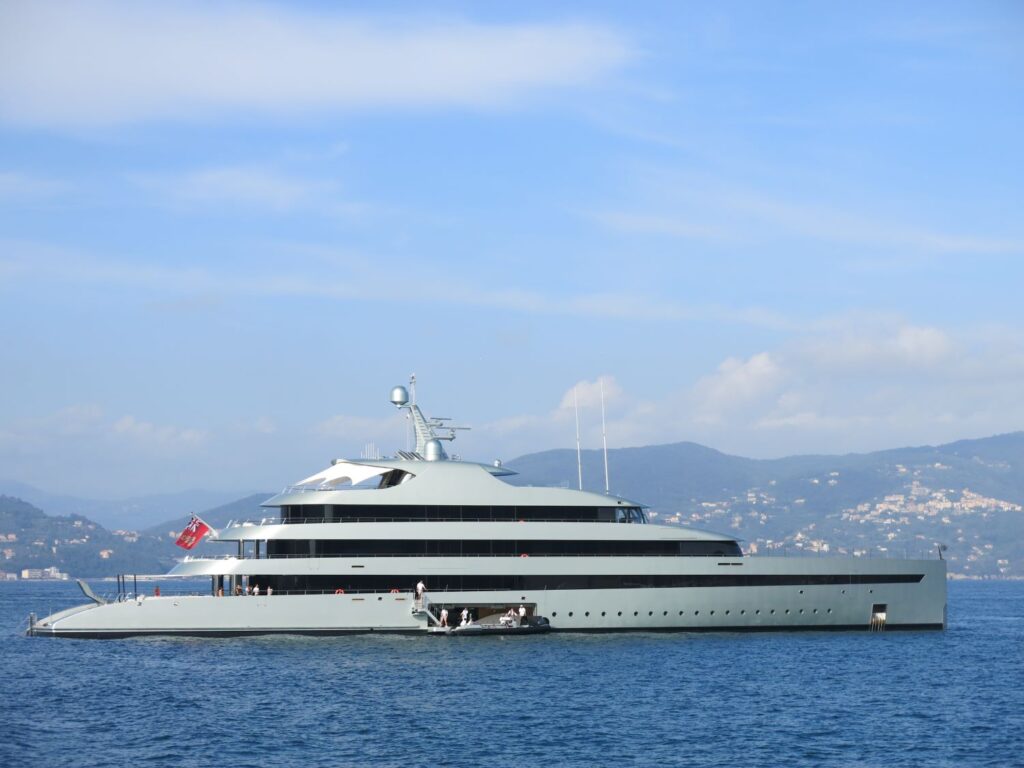 Another Feadship, the SAVANNAH boasts 273 Feet of pure luxury. Her superstructure is said to be one of the first true hybrid motor yachts.   Her guest, up to 12 are accommodates in six massive suites and serviced by a crew of 24.  Her underwater lounge and the master suite with its wall of glass are very impressive. There is never a dull moment aboard the Savannah.  She has a 30-foot pool, a dance floor and DJ booth, a full equipped state of the art gym and spa. Her beach club is filled with fun sea toys from two sailboard, sea bobs, waverunners, jet skis, wake boards, four tenders and more.   Notable is her modern art collection. Chartering at Euro 1,000,000 a week, she comes in with a smaller price tag than the selections above.
So why are these yachts so expensive to charter?  There are many factors involved but the main cost is the cost of building. Most of these yachts are designed and built by the best of all naval architects and shipyards in the world. The craftsmanship found aboard is incomparable. Due to the large size of these yacht, as you elevate in size the entire volume of the yacht increases and expenses double, triple if not a lot more, per foot.  The larger the yacht the higher the running expenses get, and more crew are required to give the five-star experience expected by all guests. The larger they are the more sea toys and onboard amenities are expected.  Therefore, fully well outfitted and maintained gyms, saunas, hammam
s are all expected.  Pool, Jacuzzi's, and helipads are part of the normal build. Part of the five-star service include gourmet food and often the chef has worked in Michelin star restaurants.  A week's cruise can cost astronomical fees as all the menus are personally created to the clients' desires. The high ratio of crew to clients helps provide outstanding service for all.  Part of the crew is often a masseuse, hair stylist, yoga and gym instructors or certified dive instructors; all there to improve the wellness experience.
If the largest and biggest yacht, top of the line, outrageous amenities and pure luxury is required for your next yacht vacation in the Mediterranean, then maybe one of these mega yachts will be on your list.
Your broker, Valef Yachts, will be most willing to tailor a selection of mega super yachts to showcase to you and get you geared up to plan a memorable holiday aboard.