Plan A Holiday/New Year Special Tropical Yacht Charter!
The weather is turning cool and soon the winter will be upon us all.  Why not start planning a festive holiday aboard a private yacht charter in the Bahamas and the Caribbean or even the Maldives?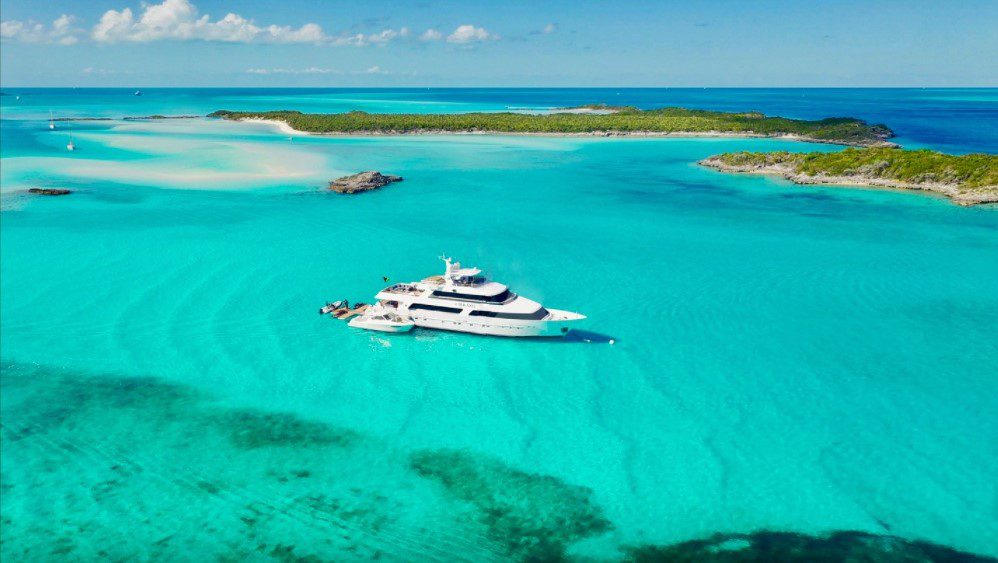 Make your holidays a special vacation with family and friends cruising the crystal blue waters of the tropics. Come explore and experience a great holiday escape aboard a Holiday yacht charter. Leave behind the snow, slush, and rain and soak up the sun on the sparkling white beaches being caressed by crystal blue waters of the tropics.
We will tailor a fabulous celebration with new and different experiences for all, on your own private yacht with its own private crew to cater to your every need.  No more cooking and cleaning for the holidays, just kick up your heels and sip your yule-time drink as you watch the fireworks ashore, dine al fresco with freshly prepared seafood, dance to island music topside and swim in the Sea.  Personalized theme parties can be arranged and even a Christmas party to top all parties ever attended before.
WINTER DESTINATION: THE CARIBBEAN & THE BAHAMAS
The Caribbean and the Bahamas have always been popular yachting destinations and celebrating the holidays aboard a private yacht is an added bonus.  Snorkeling or scuba-diving the many wrecks and caves offer an underwater world of mystery and beauty.  All the water sports using the sea toys (from water skis, jet skis, kayaks, paddleboards, windsurfers to some of the most exotic modern sea toys) aboard make for extra fun aboard. The island cuisine is outstanding with fresh seafood cooked with island spices and infused with age-old traditions.  Coves and bays are around each corner, lined with expansive white sandy beaches.  Venturing inland to the mountainous regions and dense rain forests give you so much variety in sightseeing. Parrots and colorful birds dot the skyline, swaying in the palm trees.  All of this paints a magical setting indeed. High-end shopping, even duty-free, can be found on many of the islands thus making your last-minute shopping for the holiday an easy and fun thing to do.  If the local flea markets are more your pace, indulge by all means as there are numerous. The Bahamas also boasts top-notch casinos and golf courses offering further opportunities to play and hone your skills.
WINTER DESTINATION: THE MALDIVES
The Maldives, in the Indian Ocean and just north of the equator, has more than 1,200 islands (only 200 are inhabited) and atolls which were formed from ancient volcanic activity.  The cultural diversity is made by influences over the years from South and Southeast Asians, Africans, and Arabians.  The aquatic life is fulsome and there are over 2,000 fish species making snorkeling, diving, and fishing major past-time hobbies.  The Maldivian cuisine has been influenced by many neighboring countries and mostly is based on dishes derived from fish and coconut making it a gastronomical journey not to miss.  The Indian Ocean offers a year-round tropical climate and unique underwater life and ecology.  Come explore Christmas aboard a yacht in this exceptional alternative to a traditional Christmas location.
So trade in the winter blues with the cold and wintery days for the brilliant blue of the tropics with sunny bright days. Crystal clear waters, soft white sandy beaches, vibrant towns, and exotic wildlife and coral reefs await discovery.
The Charter Process:
Get in touch by email, phone or social media message and we will start the process of getting the right yacht for you, noting all of the particulars mentioned by you for your desired escape.
From staying in private bays and avoiding crowds to joining the local culture and bustle, you choose.
How to Choose a Charter Yacht?
Determine the area you wish to charter.
What type of yacht are you interested in chartering (Motor; Motor Sailer; Sailing or Catamaran)?
How many guests will be aboard (adults/children)?
Are there specific dates or is that flexible?
Is there a known budget for the trip including all expenses?
Any special hobbies you want to be sure to include in your trip?