A GRAND DAME, 'GRACE', WAS BUILT IN 1928.
 WHAT A LIFE SHE HAS TO TELL….
* * * * *
How It All Began
An Argentinean, Jacques "Santiago" Soulas launched the 298 ton and 147 foot in length Motor Yacht 'Monica' in 1928 from the famous Camper & Nicholson Shipyards.   Commissioned in the jazz age, a year before The Crash brought the Roaring Twenties to a halt. She sported a canoe-stern design and was made of steel. Fine splendor and elegance were to be found throughout the yacht. Mr. Soulas named the yacht Monica after his daughter and the family hosted family and friends aboard for cruises until she changed hands in 1932, to a Greek gentleman, Zarch Couyoumbian, purchasing her and named her 'Rion'.
The Rion changed hands a few times before it was acquired by Sir George Tilly, Chairman of the Prudential Insurance Co., in 1938.  Just a year later she was conscripted by the British Royal Navy in 1939 for the war effort as smaller vessels were enlisted to act as coastal patrol yachts for the larger warships.  Leaving behind her use as a leisure craft, she enters turbulent waters so to speak but not before becoming fully outfitted to do so.
The War Years
The war years were hard on her as she was sent off to the Tynemouth shipyard where she had her hull reinforced, she was stripped of all her glitz and finery, and outfitted with a 12- pound quick-firing gun on the forecastle; the bridge sported twin 40 mm Oerlikons and even a large rack on the stern which held 300-pound depth charges. All suites were transformed, one to an ammunition magazine, another to the radio room, and another even a sonar room.  Hammocks hung from panel stripped walls where 20 crew slept under the command of Lt. T. Brydon, RNVR. She, along with 15 other vessels cruised along the Isle of Wight off the South coast of England.  After those patrols, in 1939, she made many runs between Dunkirk to Dover (a 39-mile run), delivering 300 soldiers each time to safety. Then in 1949 on the beaches of Dunkirk she helped evacuate the British Expeditionary Force.  She had a near miss from a bomb on her third run and lost 14 soldiers and one sailor. After being repaired in Portsmouth, she resumed her duty in the channel from Portsmouth to Southampton.
Her wartime record's claim to fame was on November 22, 1940, at 2:44 am with the capture of a German E-boat (patrol craft) off of the Isle of Wight. On March 23, 1941 she came across a submarine and laid numerous depth charges, but the oil slick found in the early hours of the day was insufficient evidence the U-boat was destroyed. Later her port side engine was damaged and she became refitted as a red-cross ship and acted as an annex to the Royal Navy Hospital. Decommissioned in October of 1945, six-years later, she then made it back to her builders to be restored to her formal glory and opulence and returned to Sir George Tilley.
From Glory to Fame & Prestige
After 6 years and the death of Sir George Tilley, The HMS Noir was bought by Aristotle Onassis in 1951. He renamed her 'Arion' and she remained in his charter fleet, amongst the likes of the well-known Christina-O which he famously stayed aboard for business and leisure.
Two years later, in 1953, Aristotle gifted the yacht to Prince Rainer and Princess Grace as a wedding present.  She made her way to the open sea to meet the ship Constitution, which Grace Kelly was aboard, coming to meet her new to-be husband, Prince Rainer. The yacht eased up to the Constitution to take aboard the royal couple and famously sailed them into the Monaco Harbor where the entire principality came out to greet them. Soon after they boarded the yacht for a romantic honeymoon voyage aboard the newly christened 'Deo Juvente II', cruising the coast of Corsica and Sardinia, two of Italy & France's most famous playgrounds for luxury yachting.  They enjoyed many happy cruises aboard until 1958, when Milica Bana, a close friend of Prince Ranier and Princess Grace, purchased her and name her 'Daska' after her granddaughter.
In 1960 sometime after she was family-owned, Crest Shipping's charter business took her to the West to the Bahamas. In 1965 Cove Shipping took her to Montego Bay.
In 1976, Greek Yachting entrepreneur Vassilios ("Bill") Lefakinis of Valef Yachts met with the owner of Daska in the bar of the Famous Grande Bretagne Hotel in Athens and made a deal to purchase the Daska by each signing on a cocktail napkin.  She crosses back to Europe and ends in Athens, Greece, her new home. Now begins her life as a professional charter yacht in the Valef Yacht's fleet of yachts, chartering out of Athens with her homeport in Marina Zeas of Pireaus.  Bill renamed the yacht 'Angela' after his beloved mother.
Quirky note: Two of Grace's previous owners hailed from Philadelphia in the U.S. and had a black toy poodle, Grace Kelly, and Kathy Lefakinis.
Another Safe Haven
During the early years of the Lebanese War of 1970-1990, Angela was used under great danger, along with a handful of other Valef Yachts, to help evacuate people trying to flee Beruit's injustice.
During the strong 1981 Earthquake of over 6 magnitude in Athens, causing great damage over an 11-day period, Angela was opened in the cold of a strong winter to house Mr. Lefakinis's family, friends, and crew safely aboard.
In 1981 Mr. Lefakinis christened his first daughter, Alexandra, aboard and held a lavish party in her honor.  She was home away from home to many famous charterers and was used by the Lefakinis family for private cruises and parties, most often seen at the island of Hydra where in the early 80's disco (Lagoudera) and yacht parties were the norm. She was the pride of the Marina during the opening of the Yachting Season each year and was always adorned in the flags of the world. Her majestic stature was used often as the backdrop for the Minister of the Merchant Marine's speeches.
Angela was sold by Mr. Lefakinis in 1983, renamed Daska and crossed the Atlantic again to reach its new home in Montego Bay.  While crossing, her engine broke and Mr. Lefakinis, after being called by the Captain, had them fix it by placing a sock as a filter until repairs could be made at their next port of call.  The little lady was not going to give up.  Due to breaching the payment agreement and not paying taxes once in Jamaica by her new owners, the yacht was seized by the Jamaican Government.  She languished in the bay until 1985 when she was then purchased at auction by Club Med's' chairman Mr. John Issa.  She went under a total refit, renamed 'Zein' (Mr. Issa's daughter's name) and made it to Negril for the Grand opening of the Grand Lido Negril.  She remained there doing sunset cruises until 2006.
Many buyers were tempted to purchase her, even Paul Allen the co-founder of Microsoft, but she was finally purchased by Quasar Expeditions in 2007.
She was brought to the Galapagos islands and given her present name of 'Grace', in honor of her past history, and refitted once again.  She presently still cruises in the Galapagos taking paying passengers on Galapagos expeditions.  The glory of her history is on display onboard and an integral part of the experience for all luxury charter guests exploring this unique destination on earth.
"Guests who cruise aboard the Grace will experience the Galapagos Islands the way Darwin did in the past: personally and privately, but with the added distinction, comfort, and elegance of today. Refined yet adventurous and agile, it's no wonder Princess Grace Kelly selected this ship for her royal honeymoon."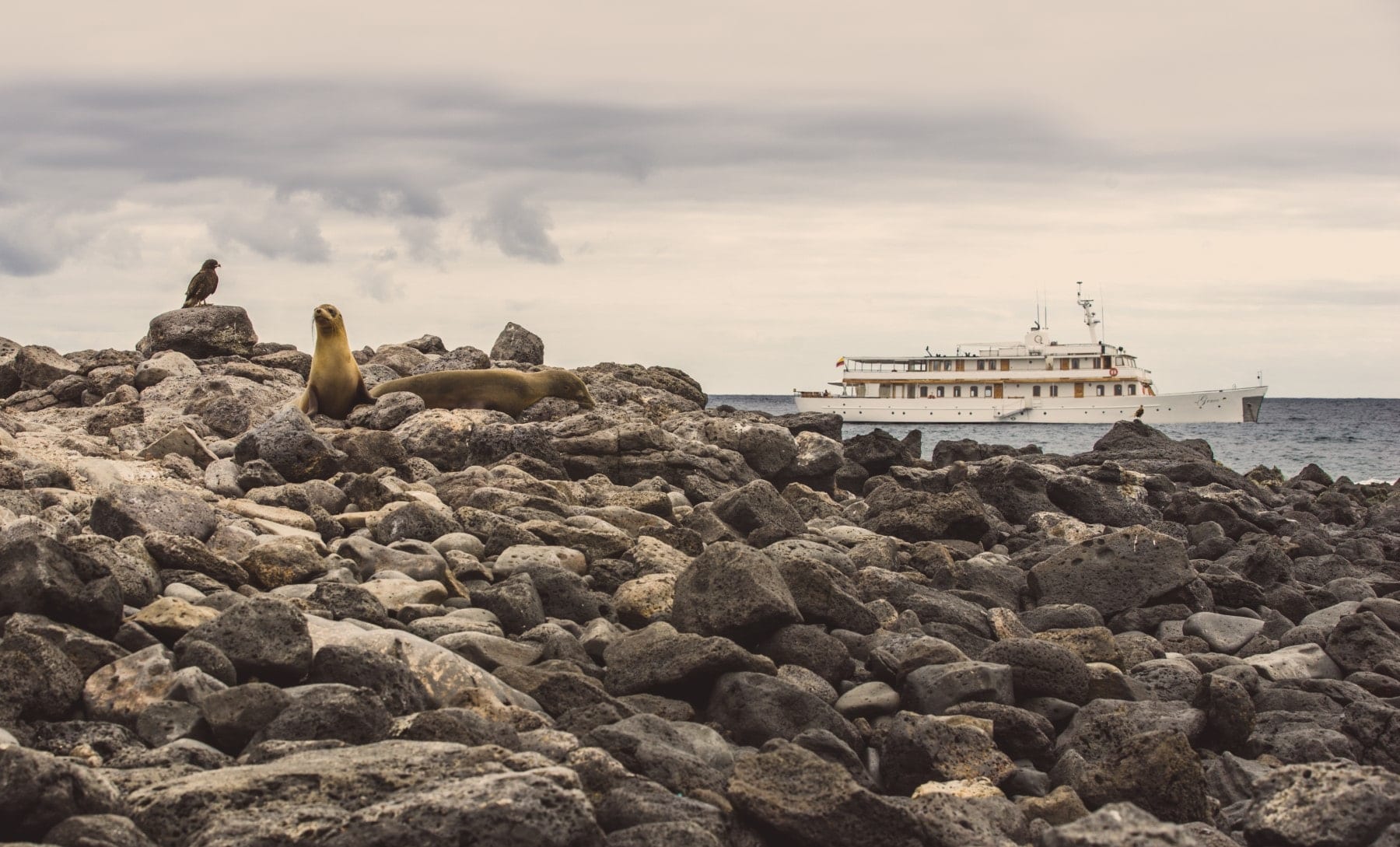 INQUIRE TO CHARTER HER PRIVATELY OR BY CABIN :
CONTACT@VALEFYACHTS.COM 
View historical yacht for charter 'CHRISTINA O' ——->>>>