The Ideal Traditional Greek Kaiki for your Odyssey
To sail at 8 knots in and out of the Greek isles on the wine-dark Sea, is a to live a dream. Experience what yachting is all about onboard Joanna K.
JOANNA K is a lovely motor sailer of 72 feet newly refit. She is designed in the typical Greek style offering simple comfort while looking like a jewel of the Mediterranean as she sails among the islands and in and out of ports. She accommodates up to eight guests in four cabins: two cabins with two single beds each and private facilities and two double bedded cabins that share a facility. Each cabin features radio with USB outlet and a mini-fridge. The salon comfortably accommodates all eight guests and has a large LCD TV. Her aft deck is perfect for al fresco dining and sunbathing in the ample lounge space. There is a wine cooler and mini-fridge on the aft as well for full enjoyment. At her fore, there is great space for sitting and lounging in privacy! She is equipped with sea toys and a wonderful crew of three offering the best of Greek hospitality!
Sail while sunbathing at the fore of the yacht in total comfort with the large expanse of beauty surrounding you in the Greek isles.  Discreet service with a smile make sure you are taken care of as your worries float away in the blue.
The beautiful teak deck and the beautifully polished wood of Joanna K offer a feeling of being one with nature while cruising the Aegean Sea. This yacht was built at Psarou shipyard in Greece, built in the traditional way, with extra love and care. She is maintained excellently by a caring, loving crew who live their passion every day on Joanna K.
When the winds blow, the sails will host and catch the breeze to propel you to your next destination with natural power!
Look up and smile as the mast pierces the brilliant blue sky, soak up the sun and let your mind wander.
There is no better place to enjoy the typical Greek meze than on the aft of this boat, where those who feel lazy can lounge in the sun with a book or a drink and those who want to nibble, chat, play backgammon or cards can enjoy the large aft deck table, sipping ouzo and nibbling local delicacies. Late afternoons can while away in this manner in total bliss or enjoy the privacy of your own company here while docked or at anchor in evenings.
To live in this manner is a dream come true for almost anyone.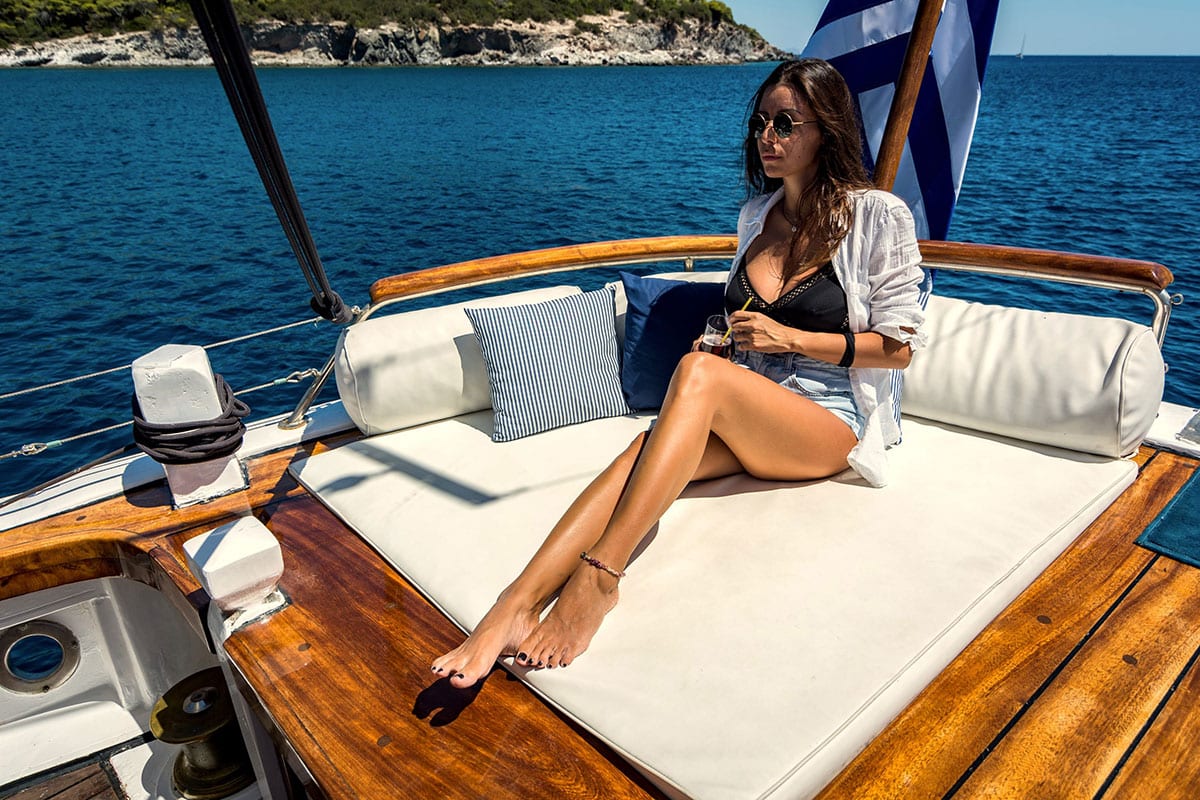 This yacht offers clients an authentic experience that will create lifelong memories. Each client who has been aboard has written enthusiastically in the yacht's guest book and longs to come back to be in the company of the caring crew and languor days away adrift in the beautiful Mediterranean.
She is currently available from ANTIPAROS island in the CYCLADES for 2022.