1. Corfu
(No, it's not Santorini!) You can fly in and out of this large island residing close to Italy in Greece's Ionian island group. This island has Venetian architecture and beautiful old mansions scattered around the islands green hills. A plethora of beaches make choosing a difficulty but if you visit by boat you can visit a few before heading south to visit more of the exquisite and fertile Ionian islands with their unique characters.
---
2. Mykonos
The best nightlife and beach-bar/club scenes in Greece is found on Mykonos. Savvy travelers from around the globe meet on this little island in the middle of the Aegean Sea where the wind blows strongly and the mellow and happy vibrations are felt all around.  For top dining experiences and quality shopping in town until well-passed midnight, you are in the right place. The Meltemi winds do blow strong in peak season July & August which might lead to delays in departure on your yacht (would that be so bad, actually?!) but the best time to visit anyway is in low season, with less crowds and a better feeling for the rustic part of the island.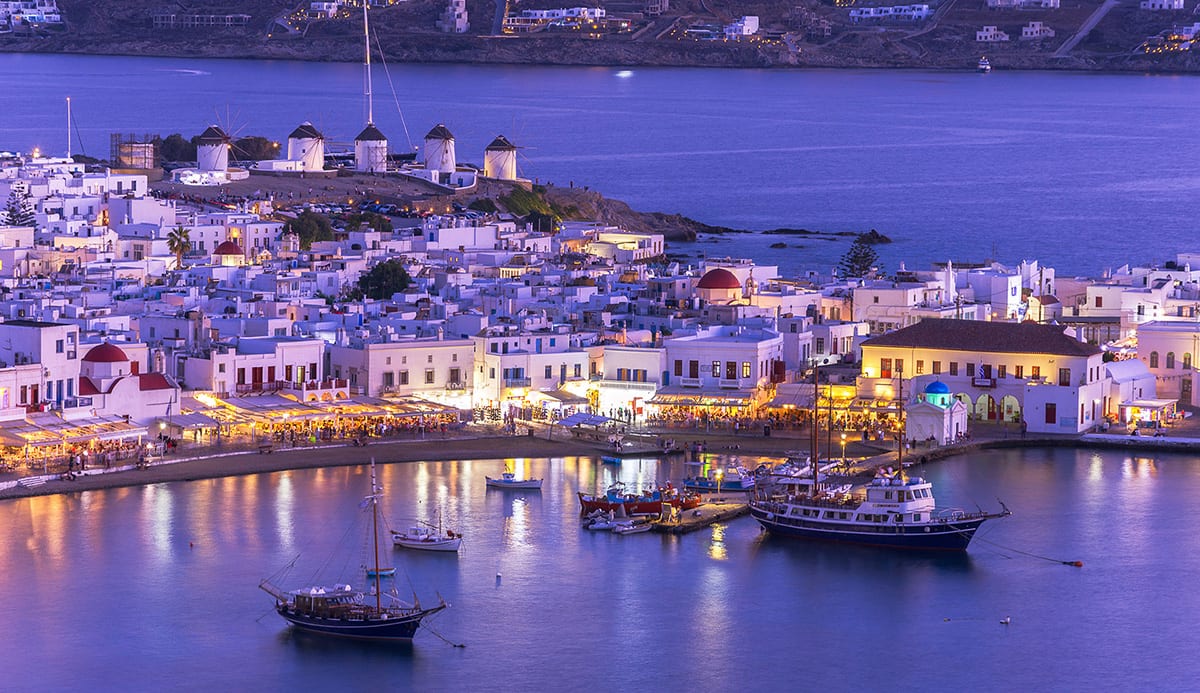 ---
3. Antiparos
One of the smaller islands in Greece and just a swim away from its well-known neighbor Paros is Anti-Paros, sounding comically radical. It was put on the map when the public caught wind of Tom Hanks owning a home here with his Greek wife, Rita.  Its cozy town at the port offers boutique shopping, such as the high-design concept shop More Than This, it has an immense cave you can visit, and lovely top dining establishments with a relaxed, tavern feeling. Dock at the port and walk back to your yacht at any hour of the night after hitting the bars or drop anchor on the Eastern side of the islands with its beautiful inlets ideal for water sports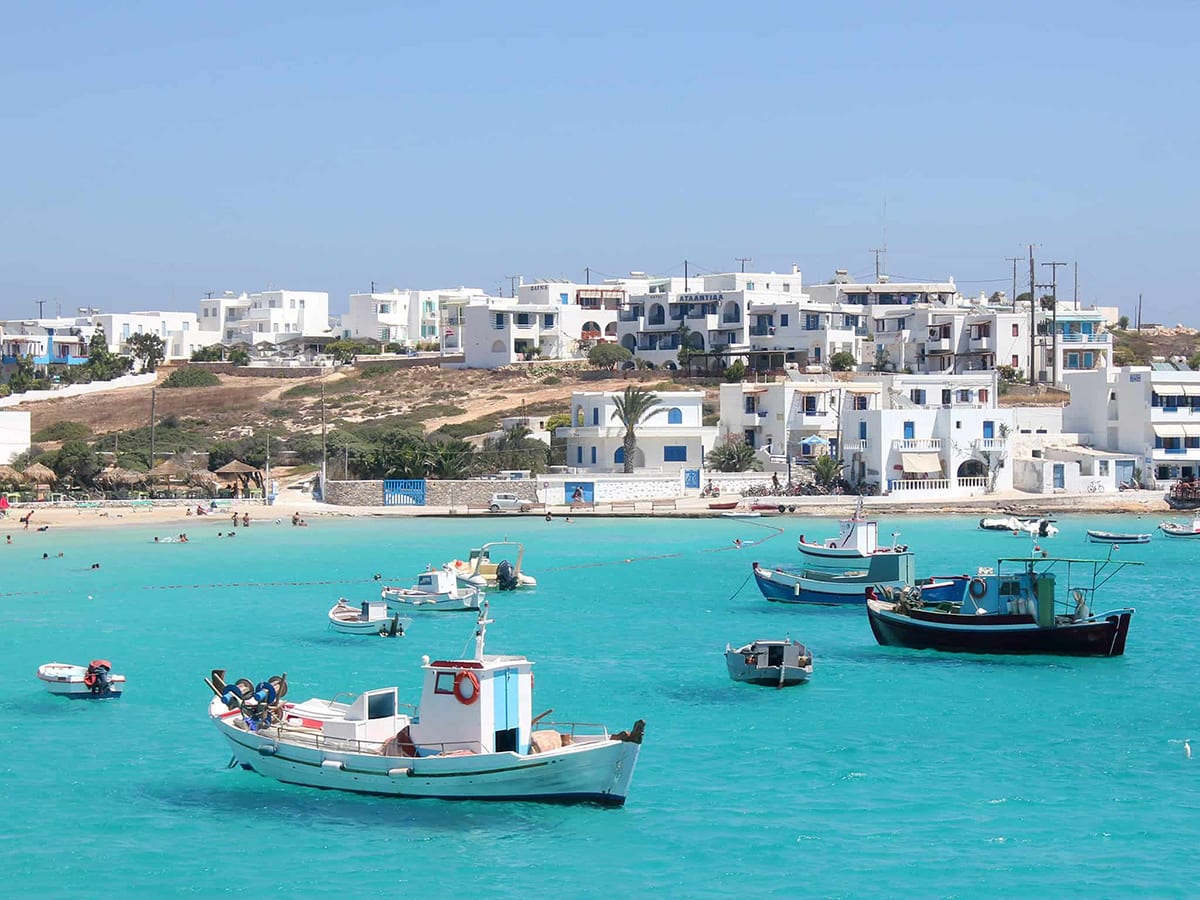 ---
4. Spetses
Imagine a town seeped in maritime history, with legendary heroes and heroines and stories from the revolution and where the cobbled streets don't allow cars but only pedestrians, bikes and horse & buggy.  You There is an old port and a new port, walking distance from one another and the paths leading to them are lined with ice-cream parlors, bars of all kinds, shops and fantastic places to eat and sip coffee. This island is popular with the elite Greek society, from low to high season, and will charm you with its artistic and real-island feel.
---
5. Poros
Poros is a green island very near to Athens with an amphitheatrically shaped town and port where cafes line the streets and boatmen cruise day and night the line of boats and drinking establishments. The town is the jewel in the middle of a large gulf where yachts can drop anchor and enjoy days of full sea sports as well as water skiing with some of the best pros in the world at the ski school located here.  The pine trees exude marvelous aromas in the summer heat and the island is best seen by moped if you can manage to take a break from swimming these warm waters.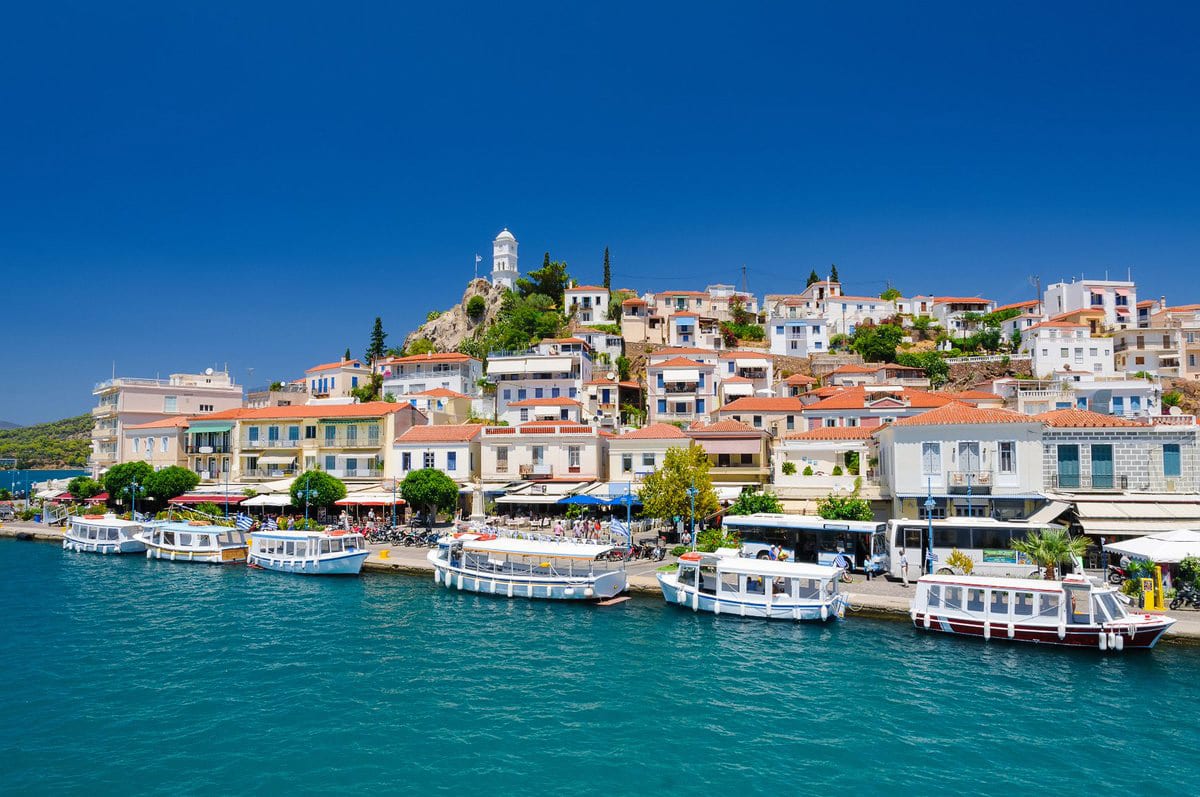 ---