President of Valef Yachts since 1981, we interview KATHY LEFAKINIS for her insights on Travel, Yachting and running her Business.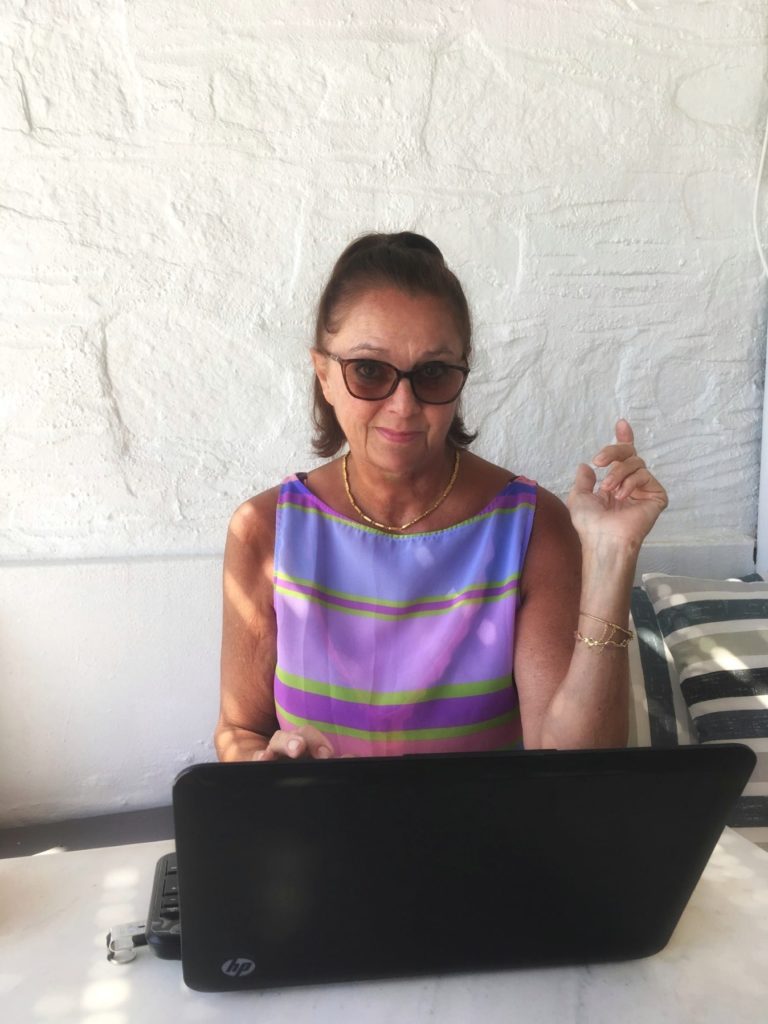 Q: What drew you to the yachting business at first?   
I grew up being by the water all my life and had an inner love of the sea and water to begin with. When I married my husband I moved to Greece and he ran the first Yachting company of Greece.  I started to spend time in the office and began to find myself useful for the business and my love of the business grew rapidly.  It did not take long to find myself fully emerged and working full time in the industry.
Q: What's your favorite part about your job?  
Making people happy.  It is a business that helps people attain their dreams of going Yachting and exploring the wonders Greece has to offer.  Our clients are excited in making their plans and I take pride in trying to find the perfect yacht and crew, set up hotels in Athens and tours and take care of all aspects of the trip.  The best part for me is receiving the numerous remarks, letters, emails and comments at the end of their trip expressing their gratitude in helping make a trip of a lifetime come true.
Q: What is your favorite Greek islands and why?   
It is hard for me to pick a "favorite" island as I find each island has its own character and ambiance.  It comes down to the mood I am in and if I want solitude and long stretches of crystal clear waters lapping on the pristine beach; wanting a night of excitement and dancing; in a mood to explore ancient sites or just to stroll windy streets with boutiques and cafes. As a young married couple, I frequented Hydra most every weekend where friends gathered and memories were made and for that reason, I might suggest that HYDRA is my favorite. The charm of the port life is second to none.

Q: What is your favorite yacht model or charter yacht and why? 
I don't believe I have a favorite model or a particular yacht but rather have a favorite style.  Any yacht with great outdoor space for lounging, sunning and easy access to the sea makes it perfect for me.
Q: What is your favorite dining style aboard?
Dining aboard for me should be in a casual atmosphere and definitely AL FRESCO.  I adore the Greek cuisine and our chefs are masters at preparing some of its famous dishes.  I, therefore, tend to prefer Greek dishes.  But being in the sun and surrounded by the soothing Med it peaks my hunger to crave salads and fresh vegetable dishes more than the heavier plates such as Moussaka, stews, and Pastitsio.  The nouveau Greek cuisine has blossomed taking a lighter look at the traditional Greek fare and I am right on board with trying that!
Q: Yachting is…..? 
The best way to see Greece and any place in the world with seacoast and islands.  It is your mode of transportation, your floating villa, your five-star restaurant all packaged in one.  You don't have to be a sea lover to enjoy yachting but I am sure after one cruise you soon will love it.
Q: What's important to you when dealing with charter clients?  
To be attentive to the clients' needs and desires.  Listening and asking the correct questions to be able to match the proper yacht, crew and experience for them.  Giving suggestions to itineraries that meet their style of travel and desires.
Q: A few words on your competition in the industry? 
Since our company started 51 years ago and being the pioneer of yachting in Greece it has developed to be the major yachting capital of the world. Many yachting companies have come and gone and many have developed into reputable companies.  I think what makes us different and has supported our great reputation is our hands-on approach to the business.  Every detail is attended to on a one to one basis and with a personal caring touch.  It is not just a business with us but each charter a project and details matter to the whole experience.
Q: How does it feel being a women-run company in 2020?
Sure I am for women being empowered and successful but I am not one to wave that flag.  On the other hand, I have great pride to have succeeded so far in a traditionally male-dominated Yachting business and then to have my two daughters running the Greek office be so successful, knowledgeable and respected is the best feeling in the world. I enjoy their perspectives and what they offer uniquely to our business and the clients.
Q: Who are your role models and why? 
That is easy. My husband, Bill.  I have such admiration for him, his life and his work ethic.  He was 20 years my senior and had so much to offer me during our 41 years of marriage. His dreams were never just dreams because he turned each and every one of them into a reality. I learned to take chances, dream big and go for it.  To be compassionate in all you do and in all walks of life.  The combination of a strong work ethic, compassion and the love he put into anything he touched, whether personal or business-wise, is the key to being a successful person.
Q: Your favorite travel destination?
I am the "avid" traveler and love any and all new experiences offered in traveling.  That being said, I don't have a favorite destination.  I enjoy and extract something from wherever I am.  I tend to enjoy any place on the sea the most, thus incorporating a vast part of the world.